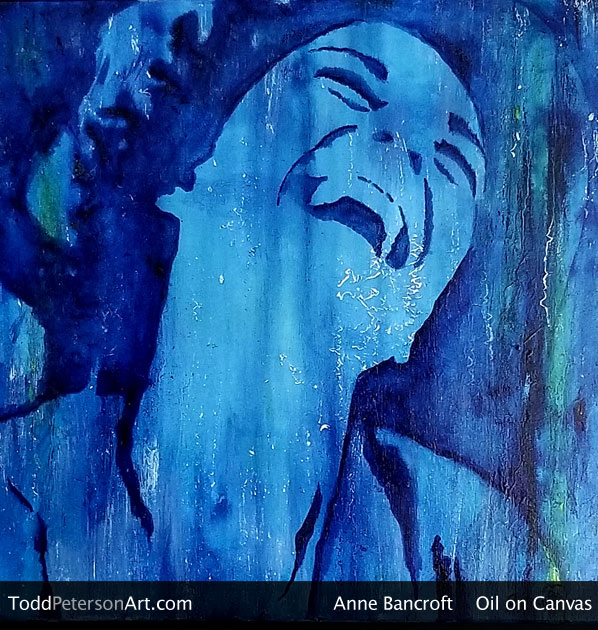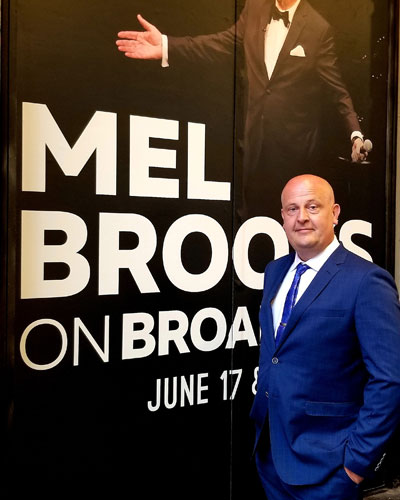 The fevered frenzy was around me and excitement filled me with yearning passion to full fill a quest.  A need within me to connect, if only for a brief moment and thank someone who has filled my life with the gift of laughter.  A gift that helped me to persevere through Cancer.  The ability to look within myself and turned despair into happiness.  The happiness found in humour.
I traveled to New York to do that.  Painting in hand to give in appreciation of the great gift he has given me.  Unbeknownst to him, I am insignificant but he, significant to me.  My experience, a daunting task, I witnessed how insincere most of the pariahs are that faun for attention, importance and greed.  I was astounded and watching empathized with the reality that stardom endures.
The experience was encapsulating and memorable in an entirely unexpected way.  I was relegated to leave the painting with a note at the stage door for him with hope that he might see me. I must have endeared myself to the cast and crew of the theatre because they all treated me with a smile on every meeting around the event addressing me by my first name.  Not in the "watch that crazy guy way" but generally glad to see me and constantly amused by my genuine boyish respectful aura gleaming through my present age.  In a way they seemed to hope with me that I would be granted, an audience, even for a brief moment.
Both nights I missed Mel by minutes entering the stage door as I came out to take in the atmosphere of the New York street. I mixed with the crowd and took in the fever-ant excitement, the chatter and the anticipation of the evening.  I enjoyed the moment with the love of my life.  Outside we mingled within the crowd both of us dressed in evening attire for the event.  Attire appropriately worn out of respect for Mr. Brooks.  My gift to him was respect.  Through my decorum, my dress, my art and an uninhibited passion for life.  
I met many great people that night..I shook their hands, I spoke with them and I felt alive within the crowd and I was filled with boyish curiosity and most of all love – for the event – for the moment – and it exuded from me.  I felt in my element – ALIVE – and filled with love and compassion not want.  And in return something magically unexpected happen.
I spotted and elderly woman desperate to get through the crowd come towards me.  I made room for her and I learned she had worked with Mel some 53 years ago and was very dear  friends with his wife Anne Bancroft.   I had a chance to show her the painting I had done for him and she blessed it with her reaction.  No words could express this moment.  We had a connection.  A moment together.  A lovely moment indeed.  I felt a warmness around me and the chaos seemed to fade away.  I then signalled the attention of the security and immediately brought the attention to her, which, within moments enabled her and her nephew to gain access to the backstage to see her college, her friend.  
Now don't canonize me, I too had desperately desired to meet him but my need changed to an appreciation for the experience rather than an undeserving entitlement topped with trophic accolade.
Yes, I would have loved his attention.  A moment to expressed my gratitude.  But unlike those around me I could not find it within me to push, clamour or demand his attention.  Who am I to do so?  I was happy to be in his presence.  That I had passed along a painting to him.  A gift, I created, out of love, to thank him.
Then, Mel appeared at the stage door.  As I watched, I wanted to help him through the crowd to make the experience more pleasurable for him, not me.  For it was his night and I was honoured to be there to experience the moment.  And honestly I don't blame him for being weary of fans after experiencing the array that had mobbed the Stage Door.
When he passed through the shouting crowd there was a moment within I spoke softly and sincerely as if I were a young boy again,
"Thank you Mel."
It must have resonated, because he paused and on entering his limo he gently acknowledged me with a soft gesture of his hand.
And then he was gone.
If I had gotten the chance to speak with him this is the story I would have told him...
30 years ago I was visiting in Florida with my parents and friends of the family.  We had spent the day shopping at the Thunderbird outdoor Flea Market.  I had been shopping for a few items to portray Fagin in "Oliver" back home in my final year of High School before I set off to Film School.
We all decided to go out that night to the 15h Street Fisheries in Fort Lauderdale.  A vey popular venue a with a view of the Fort Lauderdale Marina.  It was enigmatic and I was charged by the excitement of the restaurant and the vibrancy it oozed.
We had just been seated at our table and the room was bursting with patrons, waiters and the hustle and bustle of this crowded restaurant.  I was bursting with excitement and as I am known to do, especially at my young age,  never a loss for words, chattered endlessly to my dinner companions within the loud crowded restaurant.
I was then bumped by the patron directly behind me.  His chair bumping mine as he laughed loudly and continued with his own conversation at the table behind me.  I disregarded him and continued to speak about my upcoming role.  I was struck again by the patron behind me and although annoyed I tried to disregard his gregarious nature.  On the third bump I turned and locked eyes with a stunning woman who acknowledge me.  We met for a brief moment, and on turning back to the table I commented to the side,
"Geez, that woman looks an awful lot like Anne Bancroft."
I continued entertaining my companions about my film projects, the play and the excitement around us.   
I was caught up in my story telling of the days events, quoting films and discussing movies and entertainment as I am known to do.  
Flashes of light engulfed us and due to the windows in the restaurant I could not ascertain where the flashes were coming from.
We all remarked that maybe someone famous was there.
Once again I was bumped by the man behind me and annoyed at the interruption I glanced briefly then instantly back to my table.
I remarked again, "Geez, that lady looks like Anne Bancroft."
Brushing off the improbability I continued. 
"Maybe Sean Connery or Marlon Brando was there...wouldn't that be cool?!!!"  And then I was bumped again by the man behind me as he got up to leave.
Moments later our waiter arrived apologizing for forgetting about us.  He was flustered and remarked had never met a celebrity before.
I questioned, "Who?!"
He replied, "MEL BROOKS!"
"WHERE?!!!!" I exclaimed.
The waiter then calmly stated, "He was sitting right behind you all night." 
I leapt to my feet in total dismay and utmost horror.  I whipped around to see the table being cleared where moments ago my idol sat back to back with me.  My mouth hung open for a moment then I darted to the front entrance hoping, begging, pleading to reclaim the moment.  My eyes raced about to the front doors and then I stepped out onto the terrace to see his car as it ventured forth away from the restaurant and continued down the street turning right and out of sight.
I stood there dumfound, desperate and speechless.  And what added insult to the injury of my pain was the realization that I had a VHS copy of History of The World in my mother's bag back at our table that I had purchased at the market earlier that day.  
30 years later and I will always remember the night I had dinner with Mel Brooks.  Both of us caught up in our own revelry and neither of us knowing it.
And how ironic a gift this is. 
"Thank you Mel."