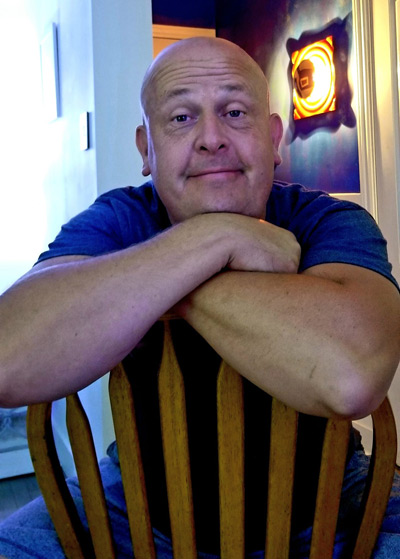 father. painter. film director. cancer survivor.
Todd Peterson has gained success throughout his diversified career spanning the fields of Film, Television. Animation, Theatre, Communications and Technology. Director, Producer, Writer, Actor are some of the many titles that help describe who Todd is. First and foremost, Todd is an artist, bringing his passion for creation to life in whatever he is involved in! A Passion, like his life, that is expressive, entertaining, welcoming and never lacking in Panache!
Todd's art is filled with emotion expressed through colour and texture. Todd's canvases are set a fire with the ferocity of the palette knife and the gentle detailing of his brushstrokes to tie in each emotion Todd was feeling at the time he created each piece. Every person, like Todd's paintings, has many levels of emotion. What Todd brings out in his work is the multilevel landscape that intrigues and captivates the viewer.
animator & director
Todd started his artistic career as a stop motion animator at 12 years old by setting fire and exploding large "Todd" made model sets for his animated films. He spent his summers inviting his friends to take part in his movies that incorporated both human and plasticine actors.
Later at York University, his film "L'amour" gained recognition for the first stop motion film produced in the film department and garnered awards. Todd's dream came true getting an offer from Will Vinton Studios – LAIKA working on Gary and Mike where he developed many interesting marketable concepts at the studio.
"Chilly Beach" was created and aired on CBC for 3 years and two films on Super Channel wherein Todd was a co-creator writer and lent his voice to the character designs he created. Todd also helmed the Director's chair of the popular Stop Motion Animated show "Henry's World" for Alliance Atlantis and the Family Channel which still airs today.
Todd has had a multi-faceted career working in film and television as a writer, actor, editor, producer and director. Todd's exuberant personality is eminent in everything he does. Todd's work has been showcased in galleries across Ontario, Canada.
connect with todd peterson